Revealing the title, blurb, and cover of my forthcoming novel on Facebook last week was good fun. Sixty readers came along and joined in. We had virtual champagne, canapes, and general chatter. Great fun was had by all.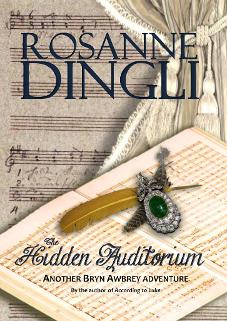 The Hidden Auditorium
has raised the curiosity of a satisfying number of readers, many of whom said they can't wait to read it. During the reveal event, I displayed several pictures of locations, costumes and props, as used in the narrative. You can see it all
here
.
The novel is another '
art history
mystery', in a similar style used in my other three novels. It's meant to make readers follow a mysterious thread while forming sympathy for the protagonist. Hopefully, this happens in
The Hidden Auditorium
as well. My editor and team of beta-readers all agree it is quite captivating, so I'm left wondering whether the reading public will feel the same.
One of my beloved characters from
According to Luke,
my second novel, makes another appearance in this new novel. I could not resist giving him a part in the unraveling of this new mystery, which is firmly based in the
history of music
. Classical music is one of my personal loves, so presenting it to my readers seems a no-brainer at this stage. In three novels, I have presented love for special locations, love for visual art, and love for literary pursuits. Music seems now to need a turn.
In this novel, Nic Manton, a small-time Italo-Australian
antiques dealer
living in Rome, stumbles on a piece of jewellery he thinks might lift him from financial doldrums. The woman who leads him to it acts strange, but reliable experts tell him his find is not only valuable, but holds the key to an old mystery to do with nusic. Trying to solve it means taking on the help of an old Welshman living in Venice, Bryn Awbrey, who first appeared in
According to Luke
. He soon shows Manton a few relevant clues which they follow. Nothing prepares them for what they find, or the violence they unleash. The story of the pendant and Nic's own life become inseparably entwined as the narrative takes the adventurers from Venice to Malta. There are little peeks at Vienna and Bayreuth woven into the story. The ending is a revelation even to the old Welshman... so readers might like the unexpected twist too.
How long must readers wait for this new novel? Only a few weeks remain until it is launched. Work is now progressing on the cover details, the exact wording of the blurb, the final editing of the text, and the design of the interior.
Leave a comment if you look forward to reading
The Hidden Auditorium
.